Art washes away from the soul the dust of everyday life.
- Pablo Picasso
"Creative professionals," is not an age-group or tied to a specific industry.
- Bethany Kolb
Beware the barrenness of a busy life.
- Socrates
Your home is whatever in this world you love more than you love yourself.
- Elizabeth Gilbert
Faith never knows where it's being lead, but it loves and knows the One who is leading.
- Oswald Chambers
Life isn't about finding yourself. Life is about creating yourself.
- George Bernard Shaw
The warrior and the artist live by the same code of necessity, that the battle must be fought anew each day.
- Steven Pressfield
The only way out of the labyrinth of suffering is to forgive.
- John Green
The world is what you think of it, so think of it differently and your life will change.
- Paul Arden
Mothers are all slightly insane.
- JD Salinger
The professional has learned that success, like happiness, is a by-product of work.
- Steven Pressfield
It does not do to dwell on dreams and forget to live.
- JK Rowling
May the Force be with you. Always.
It's hard for me to imagine any situation where kindness isn't a good option.
- Mike Foster
My policy on cake is pro having it, and pro eating it.
The opposite of love isn't hate; it's indifference.
- Steven Pressfield
Life is a journey. Not a business plan.
- Jeff Goins
We also have false images of ourselves, and Jesus doesn't negotiate with them. He wants to crucify them.
- Matt Milliner
Refuse to be average. Let your heart soar as high as it will.
- AW Tozer
I think I deserve something beautiful.
- Elizabeth Gilbert
Reality continues to ruin my life.
- Bill Waterson
I just got awesome all over the place.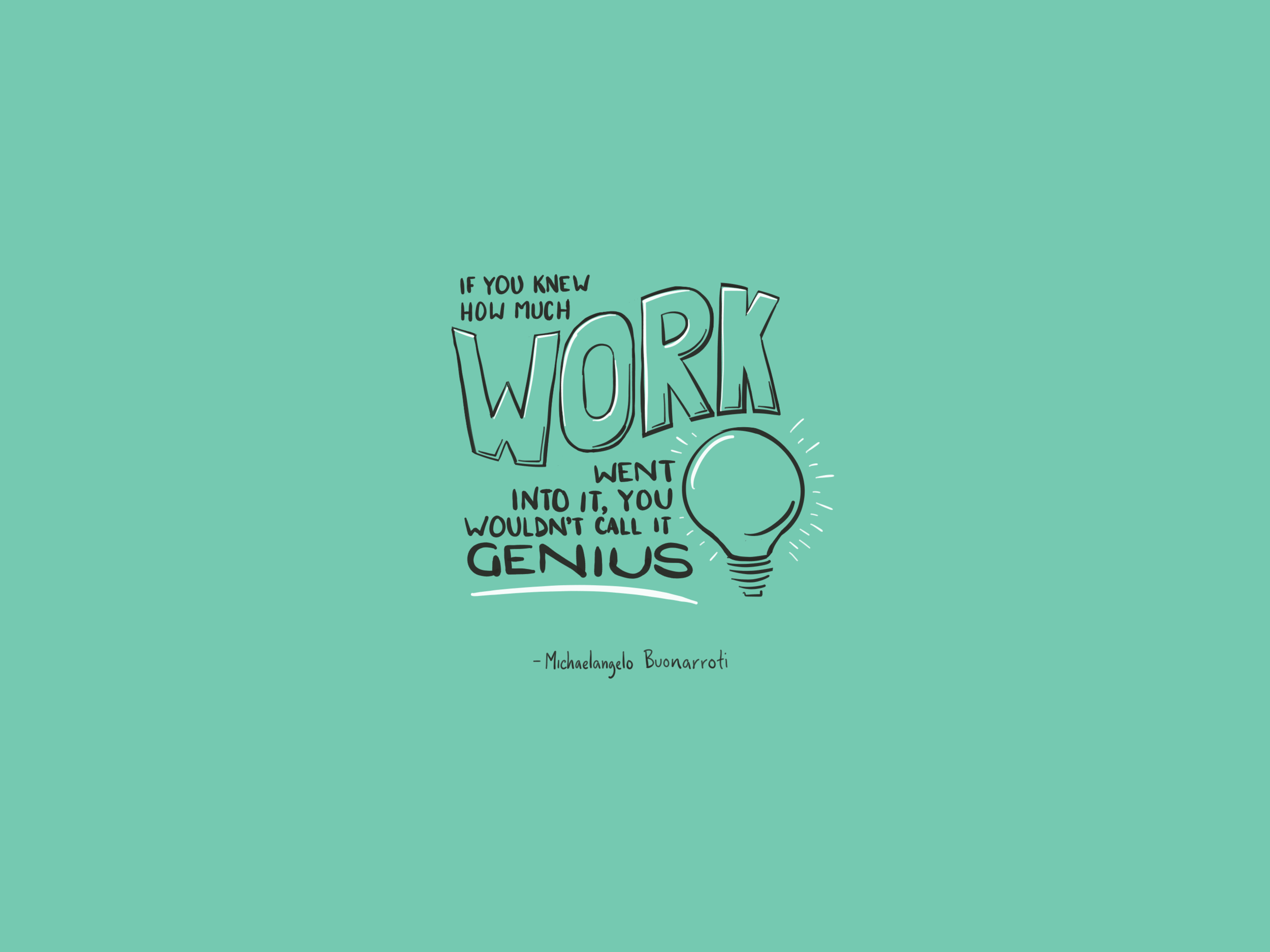 You Wouldn't Call it Genius
If you knew how much work went into it, you wouldn't call it genius.
- Michaelangelo Buonarroti
There are no unsacred places; only sacred and desecrated places.
- Wendell Berry
If it's pithy and popular, it's probably wrong.
- Skye Jethani
Blast away at it! Get it done!
- William J. Mitchell
Luminous beings are we, not this crude matter.
- Yoda
Politics is no longer just theater, it's show business.
- Frank Underwood (from House of Cards, Season 4)
A metaphor for the night sky; a trillion asterisks and no explanations.
- Robert Breault
There is nothing noble in being superior to your fellow man' true nobility is being superior to your former self.
- Ernest Hemingway
The challenge of the unknown future is so much more exciting than the stories of the accomplished past.
- Simon Sinek
Do you want it to be good, or do you want it to be yours?
- Tom Yates (from House of Cards, Season 4)
Think before you speak is criticism's motto' speak before you think is creation's.
- E M Forester
Criticism Calls Attention
Criticism may not be agreeable, but it is necessary. It fulfills the same function as pain in the human body. It calls attention to an unhealthy state of things.
- Winston Churchill
You can easily judge the character of a man by how he treats those who can do nothing for him.
- Simon Sinek
You can make progress or excuses, but not both.
– Andy Stanley
Whether you think you can, or you think you can't—you're right.
– Henry Ford
All good things are wild and free.
– Henry David Thoreau
A single act of courage is the tipping point for extraordinary change.
– Andy Stanley
The same hammer that shatters glass forges steel.
– Russian Proverb
It is not death that a man should fear, but he should fear never beginning to live.
– Marcus Aurelius
You will succeed because most people are lazy.
He is no fool who gives what he cannot keep, to gain that which he cannot lose.
– Jim Elliot
The problem with quotes on the internet is that it's difficult to verify authenticity.
- Abraham Lincoln
Stay close to anything that makes you glad you are alive.
– Hāfez
The artist's primary task is to respond.
– Gary Molander
Grace takes me places hustling can't.
Our deepest fears stand in start opposition to our wildest dreams.
– Gary Molander
When life gives you lemonade make lemons. Life will be all like "whaat?!"
– Phil Dunphy
To delight someone is to give a small lesson in how to see the world as something good.
– Frank Chimero
Your art is your confession.
– Blaine Hogan
The professional shuts up. She doesn't talk about it. She does her work.
– Steven Pressfield
the empty hours of contemplation, when a thought unfurls.
– Patricia Hampl
So you're taking a few blows. That's the price for being in the arena and not on the sidelines. Stop complaining and be grateful.
- Steven Pressfield
If fear is driving my relational patters, my voting habits, how I forgive, and so on, something is wrong.
– Phil Vaughan
Fears get pummeled when we speak them to one person. Out loud.
- Gary Molander
There is no secret, there is only work.
- Michael Mann
Remember, the muse favors working stiffs.
– Steven Pressfield
Self-doubt can be an ally.
– Steven Pressfield
When you go for it, you don't escape fear, you land in it.
– Jon Acuff
The counterfeit innovator is wildly self-confident. The real one is scared to death.
– Steven Pressfield
Our job in this life is not to shape ourselves into some idea we imagine we ought to be, but to find out who we already are and become it.
– Steven Pressfield
An artist is a heart condition, not a job.
– Gary Molander
Eat food. Not too much. Mostly plants.
– Michael Pollan
So while there are some ridiculously talented artists who get paid for their art, the rest of us keep on creating anyway for the mere fact that our souls may very well die if we don't.
– Lisa Fischer
Parental love is equitable, but the ache is different.
Every step to death is a step to life.
– Steve Garcia
I'm an expert at Spanish counting.
– Toby Emmett (6)
What comes into our mind when we think about God is the most important thing about us.
– AW Tozer
You are distracting from my creative process.
– Kanye West
Fortune, Attention, Applause
We must do our work for it's own sake, not for fortune, or attention, or applause.
– Steven Pressfield
Culture is not a territory to be won; it is instead a resource we are called to steward.
– Makoto Fujimura
I just want to punch pecan pie in the face.
- Leigh (@aparentleigh)
Maybe our favorite quotations say more about us than about the stories and people we're quoting.
– John Green